Norwegian debutant: Alaska melts hearts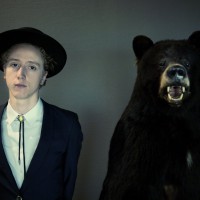 The young Jonas Alaska gave his very first concert on Danish soil, when he took the stage at Musikhusets Lille Sal at SPOT Festival 2012. However this concert will not be the last he will be playing in Denmark – far from. Next month his debut album will be on the shelfs in the Danish record stores as well.
Alaska swept away the feet under the Danish audience along with reporters and this resulted in praising reviews from all sides.
One Danish music magazine states that: "…I dare to say that we will be hearing more of this musician in the future, because he sure understands how to tell stories with his music…" (GAFFA * * * * *)
After this promising live debute in Denmark, his self entitled first album is to be released in Denmark on the 4th of June and a Danish tour with four concerts lays awaits him in the fall.
(Foto: Kaja Bruskeland)