Now It Is Time to Apply for the SPOT Festival 2013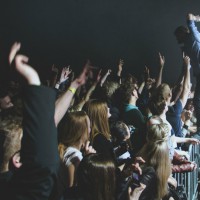 The Deadline for applications is on the 4th of December 2012
The SPOT Festival 2013 takes place on the 3rd and 4th May in Aarhus and the planning of the event is well under way. In other words now is the time that bands, solo artist, acts, etc. can apply to be part of the festival
Booking agencies, managements, record companies, concert organizers, media, etc. may also suggest Danish or Nordic acts for the SPOT Festival
SPOT is on the lookout for rock, pop, hip hop, electronica, all the hybrids as well as the brand new musical clashes and trends –regardless of whether the ambitions are national or international. Or both.
Application procedure: To Apply to play at the SPOT Festival 2013, go to www.spotfestival.dk/ansoegning. Follow the stated instructions as to how information about band/act/solo artist, contact, booking, booking contact, promotion material and tracks are uploaded.
Deadline for applications: Tuesday 4th of December 2012 at 12.00 PM
The selection of acts for the line-up for the SPOT Festival is in part based on thorough listening to the material we receive from applicants, in part by choosing bands, acts, solo artists who are among the ones that define the current Danish and Nordic music scene.
The SPOT Festival focuses on new musical trends but also takes into account the international interest and demand when compiling the line-up. For that reason having already played at SPOT by no means disqualifies an applicant.
The final line-up will be decided by the SPOT Festival.
It is the overall objective of the SPOT Festival to support high-class popular music on the national and international markets with showcases and similar initiatives and through the strengthening of international, professional and cultural networks.
The SPOT Festival is organized in collaboration with ROSA – The Danish Rock Council and MXD – Music Export Denmark
Double ticket with a discount
Keep in mind that the double ticket for the SPOT Festival and the NorthSide Festival comes with a DKK 325 discount,
Click here to read more