Highlights from a warm Aarhus welcome to SPOT's international delegates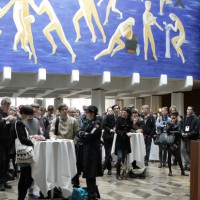 By Henrik Friis and Hans Christian Bugge – Foto: Sara Lindbæk
Aarhus City Council opened its doors on Friday, May 4th at the Town Hall to officially welcome the international guests at SPOT 2012.
More than 300 people from the music industry turned up by invitation from MXD and SPOT Festival and was greeted with a welcoming speech by Mayor Jacob Bundsgaard followed by a glass of wine and pancakes/wraps and more.
Besides the Danish attendance, music and media represents from Germany, England, Belgium, Brasil, Austria, Switzerland, Spain, Sweden, Norway, Finland, Holland, Luxembourg, Iceland and Poland were present.
Have a look at the gallery below.