LCMDF: Live from Godsbanen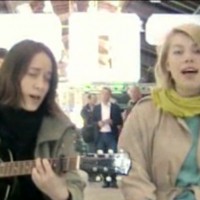 The Spanish reporter Pablo Gil from El Mundo, the second largest newspaper in Spain, was quick to film, record and interview a number of artists at this years festival. Here is one of the results.
The Finish band LCMDF (also known as Le Corps Mince De Francois) was able to borrow a western guitar from the singer Esther Maria, who were to play later that day.
The two girls delivered a very nice song in the Rå Hal at Godsbanen before the festival took off Friday at SPOT.
Watch the video here.